Hello, all! I'm pleased to announce that for 2012 I'll be participating in year-long photo project! I wanted to try out a 365 project but I knew that with writing, work, and all else I just couldn't hack it – as much fun as it sounds, there was just no way I could do a photograph a day. But a photograph a week I can do!
So I'll be participating in the
In The Picture 2012 Self-Portrait Journey
…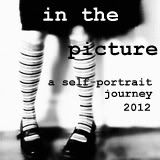 I turn 30 in mid-December 2012 (gasp!) so I figure what better way to celebrate the final year of my 20s than with a self-portrait project? Once a week (every Friday) I'll share my selfsie photo here! Many other photogs are also participating in the project and if you're interested in learning more and participating too you can check it out
HERE
.
So here it is… my first entry, which comes with a very special story. (I promise I won't be so verbose every week.)
WEEK 1: Me + Rebel, taken by 60D
It is time I said goodbye to an old friend.
Dear Rebel, we've had a lot of good times together. You've lived in a lot of sweet places (Arizona, Rochester, and Boston), you've taken some awesome trips (Germany, London, and New Orleans) and you helped me launch my photography career. You were there when I sold my first photographs at my first summer art festival three and a half years ago and when I opened my Etsy shop a year ago.
Look, Rebel, it's a vintage selfsie of us in Germany!
Didn't we have fun!?
I'm embarrassed to admit that I've dropped you, sat on you, bumped you around… but you've survived! You're a trusty old pal.
But for my birthday last month I upgraded to a Canon60D. And boy is she something.
Don't worry though, Rebel. You won't be shoved to the shelf never to be seen again! I have special things planned for you! 60D is a special gal but she still makes a little nervous… I'm wary about taking her out in inclement weather or to dicey locales. For example, if I go on a camping trip you're sure to be my choice. See? You'll get some special adventures yet. We had a really great 5 years together but it was really just time for an upgrade.
You didn't think I would let you go into retirement before making you work one last time, did you? One final photo to kick you off...
Me + 60D, taken by Rebel
(PS: Somebody didn't tell kitty that this is supposed to be MY self-portrait project not the Jill + Mittsy photo project. Even after trying to kick her off the couch twice she managed to sneak back into my shots.)
Happy retirement, Rebel. Give yourself a little break, rest, relax. I'll pull you out again soon, I promise!
Good things are in our future! Xoxo Jillian